MARILYN BARON, AWARD-WINNING AUTHOR
FINDING YOUR FOOTPRINT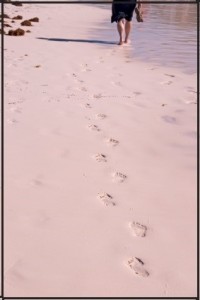 Marilyn's writing fancy turns in different directions—from humorous coming-of-middle-age women's fiction to historical romantic thrillers and suspense to paranormal. But it's always fun and full of surprises. And, in the end, it always turns to love.  There is more than one pathway to love. What's your reading footprint? Marilyn's books come in all sizes, from short stories and anthologies to full-length novels. From eBooks to print. To find out more about what Marilyn writes, click on the bookshelf link above.
RECENT NEWS!
Marilyn is The Finalist in the 2017 Georgia Author of the Year Award in the Romance Category for Stumble Stones: A Novel.
THE ALIBI
Marilyn's 21st work of fiction, The Alibi, a romantic suspense, is now available.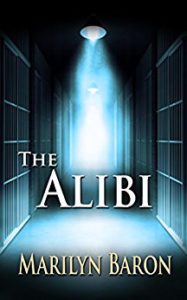 Merritt Saxe, newly hired public relations specialist with the Florida prison system, answers an urgent plea from their division's director, Willard Ware Baintree. Following his orders, she finds him in the apartment of his mistress, his bloody T-shirt and the mistress's dead body convincing her the criminal justice superstar is himself a criminal. The director claims he didn't kill the woman and coerces Merritt into being his alibi.
Meanwhile, as the director pulls her farther into his web of lies, Merritt breaks with her longstanding boyfriend and begins a steamy relationship with hunky attorney Israel Goodspeed, whose brother works for the director. Yet how can she trust Israel with her secret or her heart when she suspects the director has been orchestrating their relationship to keep her in line? Speaking out about the cover-up could cost her more than time in jail…it could cost her life.
WATCH THE BOOK TRAILER:
BUY THE ALIBI NOW
AMAZON     BARNES & NOBLE     THE WILD ROSE PRESS
THE VAMPIRE NEXT DOOR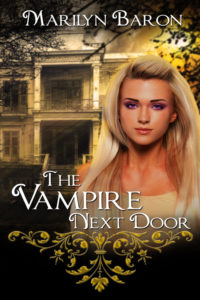 Aurora Dawn Hale, the ravishing daughter and granddaughter of psychics, wants to take a bite out of the boy next door, reformed vampire Lancelot "Lance" Lakeland, who repents his past and desperately desires to be good. Lance has given up immortality to be with the woman he craves. He must convince Aurora Dawn he is worthy of her trust. Will she love him for who he is and leave her fiancé at the altar? Or wake up from her spell in time to recognize the evil presence of the fiend who has terrorized her family for centuries?
WATCH THE BOOK TRAILER:
BUY THE VAMPIRE NEXT DOOR NOW
AMAZON     BARNES & NOBLE     THE WILD ROSE PRESS
APPEARANCES
ESCAPE INTO BOOKS
http://escapein2books.com
Date: August 5, 2017
Time: Noon-5 p.m.
Place:Renaissance Atlanta Midtown
866 W Peachtree Street
Atlanta, GA 30308
(678) 412-2400
THE AJC 2017 DECATUR BOOK FESTIVAL
Date: Sunday, September 3, 2017
TIME: 1:15-2:00 p.m.
Place: Marriott Conference Center Auditorium
Title: Atlanta Writers Club – Fiction That Doesn't Take Itself Too Seriously
KNOWL-EDGEWISE PROGRAM of the MJCCA
Stumble Stones: The Project and the Novel
Date: Thursday, September 14, 2017
Time: 10:30 a.m. – Noon
Place: The Marcus Jewish Community Center
5342 Tilly Mill Road, Dunwoody, GA 30338
678-812-4000
ALIVE IN ROSWELL
Date: Thursday, October 19, 2017
Time: 5-9 p.m.
Place: Downtown Roswell, Georgia.
For more on this event, CLICK HERE.
BARBARA VEY READER APPRECIATION WEEKEND
Dates: April 27-29, 2018
Place: Milwaukee, Wisconsin
A recent article by Marilyn, Setting Your Novel on a Cruise Ship, was featured in Southern Writers Magazine's Suite T Blog.  Read it HERE.
Marilyn's novel, Stumble Stones, was featured in Northside Woman magazine in the Good Books section.  Read about it HERE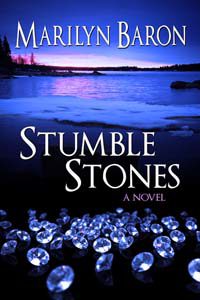 STUMBLE STONES
Hallelujah Weiss, writer for the steamy sudser As the Planet Spins, gets a second chance at love when she flees to Italy to get over her recent divorce, courtesy of her cheating ex-husband's credit card. A woman scorned, Hallelujah has sworn off men and is determined to reinvent herself. The new Hallelujah is eager to live life on the edge, more like Polly Winthrop, a character she writes and idolizes.
Lonely Berlin hedge fund manager Alexander Stone, a number cruncher who puts his faith in numerical data, still believes in destiny, despite the fact his fiancée just dumped him. Always a man with a plan, Alexander did not plan on Hallelujah.
After a chance encounter on a flight to Rome, the unlikely pair faces danger when they team up to return to their rightful owner a stash of WW II vintage jewels. The hidden diamonds hold the key to an unsolved mystery and a promise of love.
WATCH THE BOOK TRAILER:
BUY STUMBLE STONES
AMAZON    BARNES & NOBLE      THE WILD ROSE PRESS E BOOK        THE WILD ROSE PRESS PAPERBACK     ALLROMANCE EBOOKS  KOBO
On September 15, 2015, Marilyn's psychic suspense novel, Sixth Sense, Book 1 in her Psychic Crystal Mystery series, was re-released by AmazonEncore Imprint.
SIXTH SENSE (A Psychic Crystal Mystery–Book One)
From AmazonEncore
Reluctant psychic Katherine Crystal, dubbed "Crystal Ball Kate," is thrust into the national spotlight when she accurately predicts the death of a movie actor's young son in a private plane crash. Besieged by requests to use her powers to help others, she realizes why her parents had warned her never to let anyone know of her visions.
By-the-book Atlanta police detective Jack Hale harbors a deep-seated distrust of psychics and ignores Katherine's warnings when she calls to report her premonition. Jack is forced to partner with Kate, who uses her eerie sensitivity to evil to help him catch a serial killer in Sydney, Australia, but that's only the beginning of the story. Jack and Kate are drawn into the investigation of a mystery surrounding Kate's birth and find murder and romance among a secret society of psychics in the quaint seaside spiritualist community of Casa Spirito, Florida.
BUY SIXTH SENSE
AMAZONENCORE KINDLE EDITION     AMAZON PAPERBACK     THE WILD ROSE PRESS PAPERBACK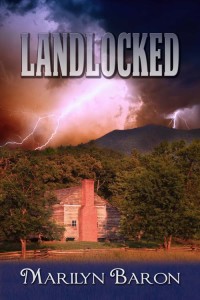 Marilyn's new novel, Landlocked, her tenth with The Wild Rose Press, is now available.
Romance, a decades-old mystery, and a serial killer on the loose…
Amelia Rushing is an inexperienced South Florida realtor with weather issues, and a loser at love. Her grandmother asks her to sell some property on an isolated North Carolina mountaintop. Upon investigation, Amelia finds the tract is landlocked. Determined to make her first sale and right the injustice to her grandmother, Amelia travels to the town of Confrontation and enlists the help of local real estate attorney, Alec Brady, who thwarts her at every turn.
Sparks fly when Amelia announces her plans to move into her grandmother's cabin until she can sell the property. It is Alec's current home, and he's not giving it up. When Amelia discovers that thirty years ago a prominent landscape artist disappeared in the town of Confrontation, she is anxious to solve the decades-old mystery, but there's a serial killer on the loose. A number of people are missing but no witnesses are coming forward. What is the community hiding, and does Alec know where the bodies are buried?
WATCH THE BOOK TRAILER:
BUY LANDLOCKED
AMAZON     BARNES & NOBLE    THE WILD ROSE PRESS      ALL ROMANCE E-BOOKS     KOBO    BOOKSTRAND      iBOOKSTORE

Marilyn's novel, Someday My Prints Will Come, A Lobster Cove Series Fantasy from The Wild Rose Press, is now available.
Eva, a minor goddess of the Venus variety, descended from a distinguished line of matchmakers, operates a business called Someday My Prints Will Come, a virtual lost-and-found of mismatched prints for photo processors around the country. She uses the leftover space on the database to accomplish her primary mission as a modern-day matchmaker. While Eva successfully helps others find their soulmates, she has never been in love.No matter how hard she tries, she can't find the perfect woman for a particularly picky client—Noah Prince, the emissary for rich and powerful CEO Adam Prinsky of Prinsky Electronics. Noah holds the key to Eva's past, and he's hoping to win her heart before he has to break it. This paranormal/fantasy tells the tale of how the matchmaker, who also hopes that one day her prince will come, finds a match.
BUY SOMEDAY MY PRINTS WILL COME
AMAZON     BARNES & NOBLE    THE WILD ROSE PRESS     ALL ROMANCE EBOOKS     BOOKSTRAND    ALLROMANCE EBOOKS     KOBO     iBOOKSTORE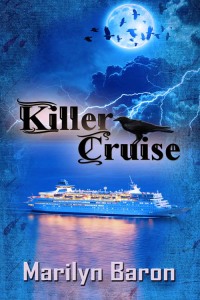 KILLER CRUISE (A Psychic Crystal Mystery–Book Three) was released on March 20, 2015, from The Wild Rose Press.
Book three in the Psychic Crystal Mystery series and sequel to HOMECOMING HOMICIDES
The psychic detective team of Crystal & Hale, former Atlanta police detective Jack Hale and his bride "Crystal Ball Kate," is on a two-week transatlantic cruise. They are called in to investigate the threat to a high-profile European Union banking conference aboard ship and to calm the fears of the superstitious crew, who think the ship is cursed. Before long they realize they also need to catch an art thief and find a murderer.
Assisting them, posing as husband and wife at Kate and Jack's insistence, are Juliette Spencer, Kate's mother, and Graysville Police Chief Will Bradley, a debonair widower. Juliette just wants to enjoy the cruise and her daughter's company, but given Chief Bradley's unrelenting amorous advances in close quarters she may have to either jump ship or throw him overboard.
BUY KILLER CRUISE 
AMAZON      BARNES & NOBLE     THE WILD ROSE PRESS     ALL ROMANCE EBOOKS     KOBO     BOOKSTRAND    IBOOKSTORE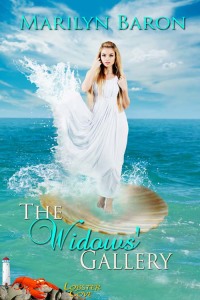 Marilyn's  novel, The Widows' Gallery, part of the new Lobster Cove series from The Wild Rose Press, is now available. 
Childless heiress Abigail Adams Longley and three other widows bond over a Renaissance masterpiece in Florence, Italy, and find love, friendship and joy in their joint venture to open an art gallery at the Longley mansion in Lobster Cove, Maine. Since the death of her husband, Abigail has been lonely and drifting in a house that's too big and a town that's too small. When she literally runs into sexy widower and whale-watching excursion captain Tack Garrity on the dock, she's entranced by his adorable five-year-old daughter. But will Tack, who has harbored a secret crush on Abigail for almost two decades, be able to capture her heart? A secret pact her husband made with Tack could either tear them apart or bring them closer together and change their lives forever.
BUY THE WIDOW'S GALLERY
AMAZON     BARNES & NOBLE     THE WILD ROSE PRESS      ALL ROMANCE EBOOKS     KOBO     BOOKSTRAND      IBOOKSTORE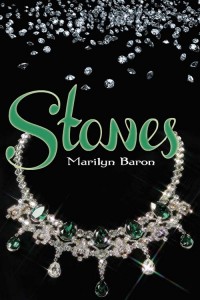 Marilyn's novel Stones, a humorous coming-of-middle-age women's fiction from The Wild Rose Press, is now widely available in paperback and Ebook.
When Julie Paver's husband Matt moves his business to Atlanta, she is forced to leave behind her thriving jewelry boutique, Stones. The move threatens their twenty-five year marriage, because now if Matt isn't out of town negotiating a merger, he's spending late hours on overseas phone calls with his sexy-sounding second-in-command.
Feeling neglected and unloved, Julie seeks closure by reconnecting with her first love, Manny, when he pursues her with his Internet innuendos. Manny is unaware he is the father of Julie's son, and Julie contemplates revealing the secret to him on the eve of their son's wedding. But would such a walk down memory lane be worth the cost?
Julie and Manny finally meet at her oceanfront condo—in the midst of a hurricane—and elements collide to create the perfect storm in this coming-of-middle-age crisis.
BUY STONES
AMAZON     BARNES & NOBLE    THE WILD ROSE PRESS    ALL ROMANCEEBOOKS    KOBO   BOOKSTRAND    IBOOKSTORE
Marilyn presented on two panels at the AJC Decatur Book Festival on Sunday afternoon, September 6, 2015, on the Georgia Romance Writers' Stage.  The Decatur Book Festival is the largest independent book festival in the country.  Check out Marilyn's page HERE

Marilyn is featured in the March/April 2014 issue of Southern Writers Magazine! Check it out HERE!
OTHER BOOK RELEASES
Marilyn's musical, MEMORY LANE, a collaboration with her sister, Sharon Goldman, is now available on Amazon in both paper and ebook forms.
To listen to a musical medley, go HERE.
Watch the video HERE.
BUY MEMORY LANE
HOMECOMING HOMICIDES (A Psychic Crystal Mystery–Book Two)
From The Wild Rose Press
Book two in the Psychic Crystal Mystery series and sequel to SIXTH SENSE:
Professional crisis manager Philippa Tannenbaum is spokesperson for the law enforcement task force charged with solving a high-profile case. She never dreams her position as Homecoming Pageant Director and her second-place finish in the previous year's competition has placed her on a serial killer's hit list. Always a runner-up in life, she wants to finally come in first at finding the killer targeting the current crop of beauties.
Her friend Luke Slaughter, a Graysville city cop, shows up at Philippa's office, assigned to partner with her in solving the case and to protect her 24/7 for the duration. Unfortunately, he's also the man she hooked up with for a one-night stand when she broke up with her fiancé. Working with her is going to be less than easy, for a number of reasons…
BUY HOMECOMING HOMICIDES
AMAZON     BARNES & NOBLE     THE WILD ROSE PRESS     ALL ROMANCE EBOOKS    KOBO     BOOKSTRAND     iBOOKSTORE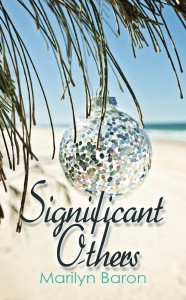 SIGNIFICANT OTHERS
From The Wild Rose Press
For Honey Palladino, the holidays have lost their magic. She is sure her husband is cheating on her. Her daughter plans to spend the time with a friend. Her widowed mother sees the image of Jesus in a live oak tree. As if that's not enough, her mother is also talking about going on a Christmas cruise with some old geezer, without benefit of marriage. That would be right after she signs away the family business — the real estate agency Honey's father built into a company worth millions, the job to which Honey has devoted her life.
At her mother's condo in Boca Raton, Florida, many have recently lost a spouse and are now with "significant others," and Honey is intrigued by the promise of new love even at an old age but doubts she'll ever find another significant other after her inevitable divorce. When her mother reunites with a lost love from years before, Honey is completely undone, but the "Jesus tree" puts into motion a series of holiday miracles. Discovering what's important in life brings a message of hope for lovers of all ages.
BUY SIGNIFICANT OTHERS 
 AMAZON     BARNES & NOBLE     THE WILD ROSE PRESS     BOOKSTRAND     ALL ROMANCE EBOOKS     KOBO     IBOOKSTORE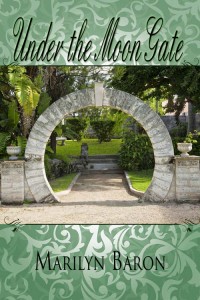 UNDER THE MOON GATE
From The Wild Rose Press
Dashing sea captain Nathaniel Morgan sails into the life of prim and proper Bermuda heiress Patience Whitestone and threatens to expose her family secrets—ruinous secrets she wasn't aware of. The two are immediately at odds when Nathaniel moors his vessel in front of her estate and refuses to leave until he finds the cache of Swiss gold he's convinced was buried somewhere on the property during World War II. Can Patience save herself and her family's reputation when she finds herself reluctantly drawn to this determined "pirate"? Or will someone from the past make good on his threat to destroy them both? Their fate is inextricably linked to Nazi plots and to the beautiful moon gates of Bermuda in this compelling tale of love and intrigue.
BUY UNDER THE MOON GATE
AMAZON     THE WILD ROSE PRESS     BARNES & NOBLE     ALL ROMANCE EBOOKS    BOOKSTRAND     KOBO     IBOOKSTORE