MARILYN BARON, AWARD-WINNING AUTHOR
FINDING YOUR FOOTPRINT
Sometimes my writing fancy turns in different directions—from women's fiction to romantic thrillers and suspense to paranormal. But it's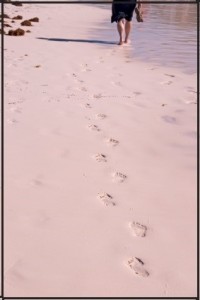 always fun and full of surprises. And, in the end, it always turns to love. Are you hooked on humorous women's fiction? Do you rave over romantic thrillers? Or do you prefer paranormal? There is more than one pathway to love. What's your reading footprint?
The Long and Short of It. My books come in all sizes, from short stories and anthologies to full-length novels. From eBooks to print. To find out more about what I write, click on the bookshelf link above.
RECENT NEWS!

Marilyn is featured in the March/April 2014 issue of Southern Writers Magazine! Check it out HERE!
Marilyn wins a second top blogger award from the Romance Lives Forever Blog!  Check it out HERE !
HOMECOMING HOMICIDES (A Psychic Crystal Mystery–Book Two) is out in E-book and paperback. Scroll down to recent releases or go HERE for more information.
Marilyn's musical, MEMORY LANE, a collaboration with her sister, Sharon Goldman, is now available on Amazon in both paper and ebook forms.  To listen to a musical medley, go HERE.  
Or watch the video HERE.
BUY MEMORY LANE
LATEST BOOK RELEASES
HOMECOMING HOMICIDES (A Psychic Crystal Mystery–Book Two)
From The Wild Rose Press
Book two in the Psychic Crystal Mystery series and sequel to SIXTH SENSE:
Professional crisis manager Philippa Tannenbaum is spokesperson for the law enforcement task force charged with solving a high-profile case. She never dreams her position as Homecoming Pageant Director and her second-place finish in the previous year's competition has placed her on a serial killer's hit list. Always a runner-up in life, she wants to finally come in first at finding the killer targeting the current crop of beauties.
Her friend Luke Slaughter, a Graysville city cop, shows up at Philippa's office, assigned to partner with her in solving the case and to protect her 24/7 for the duration. Unfortunately, he's also the man she hooked up with for a one-night stand when she broke up with her fiancé. Working with her is going to be less than easy, for a number of reasons…
BUY HOMECOMING HOMICIDES
SIXTH SENSE (A Psychic Crystal Mystery–Book One)
From The Wild Rose Press
Reluctant psychic Katherine Crystal, dubbed "Crystal Ball Kate," is thrust into the national spotlight when she accurately predicts the death of a movie actor's young son in a private plane crash. Besieged by requests to use her powers to help others, she realizes why her parents had warned her never to let anyone know of her visions.
By-the-book Atlanta police detective Jack Hale harbors a deep-seated distrust of psychics and ignores Katherine's warnings when she calls to report her premonition. Jack is forced to partner with Kate, who uses her eerie sensitivity to evil to help him catch a serial killer in Sydney, Australia, but that's only the beginning of the story. Jack and Kate are drawn into the investigation of a mystery surrounding Kate's birth and find murder and romance among a secret society of psychics in the quaint seaside spiritualist community of Casa Spirito, Florida.
BUY SIXTH SENSE
AMAZON     BARNES& NOBLE     THE WILD ROSE PRESS     BOOKSTRAND     ALL ROMANCE EBOOKS     KOBO     IBOOKSTORE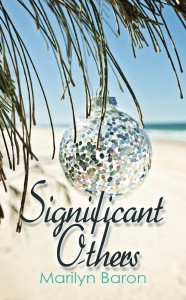 SIGNIFICANT OTHERS
From The Wild Rose Press
For Honey Palladino, the holidays have lost their magic. She is sure her husband is cheating on her. Her daughter plans to spend the time with a friend. Her widowed mother sees the image of Jesus in a live oak tree. As if that's not enough, her mother is also talking about going on a Christmas cruise with some old geezer, without benefit of marriage. That would be right after she signs away the family business — the real estate agency Honey's father built into a company worth millions, the job to which Honey has devoted her life.
At her mother's condo in Boca Raton, Florida, many have recently lost a spouse and are now with "significant others," and Honey is intrigued by the promise of new love even at an old age but doubts she'll ever find another significant other after her inevitable divorce. When her mother reunites with a lost love from years before, Honey is completely undone, but the "Jesus tree" puts into motion a series of holiday miracles. Discovering what's important in life brings a message of hope for lovers of all ages.
BUY SIGNIFICANT OTHERS 
 AMAZON     BARNES & NOBLE     THE WILD ROSE PRESS     BOOKSTRAND     ALL ROMANCE EBOOKS     KOBO     IBOOKSTORE
DESTINY: A BERMUDA LOVE STORY, prequel to UNDER THE MOON GATE
From The Wild Rose Press
Available now in E-book.
The relationship of star-crossed lovers Elizabeth Sutton and Edward Morgan founders off the coast of Bermuda with the shipwreck of the Sea Venture in the seventeenth century.  Edward is seduced by the captain's daughter and trapped into an unhappy marriage, but he and his new wife continue the voyage to Virginia to rescue the starving Jamestown Colony.
Elizabeth, still in England and pregnant with Edward's child, receives Edward's letters telling of the shipwreck but knows nothing of his marriage.  When her child is old enough, Elizabeth follows Edward as far as Bermuda.  Will he return and will the lovers be reunited, or will their eternally entwined souls search forever to fulfill their destiny?
BUY DESTINY: A BERMUDA LOVE STORY
AMAZON    BARNES & NOBLE      THE WILD ROSE PRESS    BOOKSTRAND    ALL ROMANCE EBOOKS    KOBO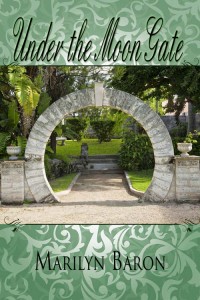 UNDER THE MOON GATE
From The Wild Rose Press
Dashing sea captain Nathaniel Morgan sails into the life of prim and proper Bermuda heiress Patience Whitestone and threatens to expose her family secrets—ruinous secrets she wasn't aware of. The two are immediately at odds when Nathaniel moors his vessel in front of her estate and refuses to leave until he finds the cache of Swiss gold he's convinced was buried somewhere on the property during World War II. Can Patience save herself and her family's reputation when she finds herself reluctantly drawn to this determined "pirate"? Or will someone from the past make good on his threat to destroy them both? Their fate is inextricably linked to Nazi plots and to the beautiful moon gates of Bermuda in this compelling tale of love and intrigue.
BUY UNDER THE MOON GATE
AMAZON    THE WILD ROSE PRESS     BARNES & NOBLE    ALL ROMANCE EBOOKS    BOOKSTRAND    KOBO    IBOOKSTORE