Finding Your Reading Footprint
Marilyn's writing fancy turns in different directions—from humorous women's fiction to historical romantic thrillers and suspense to paranormal. But it's always fun and full of surprises. And, in the end, it always turns to love.  There is more than one pathway to love. What's your reading footprint? Marilyn's books come in all sizes, from short stories and anthologies to full-length novels. From eBooks to print and audio. To find out more about what Marilyn writes, click on the bookshelf link above.
THE SIEGE: A NOVEL
Marilyn's 23rd work of fiction, The Siege: A Novel, a mainstream women's fiction/historical romantic thriller, is now available.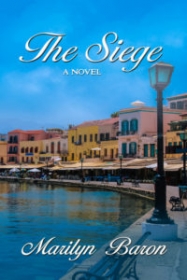 Artist Theia Constas receives a tour of Italy from her grandmother as a college graduation present. Before she departs, her ya-ya's deathbed revelation of a cache of WW II photographs and love letters extends Theia's itinerary to Crete in search of her unknown grandfather, a promising artist who studied under Chagall but didn't survive the war.
Wade Bingham, an actuary who always follows the rules and calculates the odds, finds himself alone on his honeymoon trip, wondering why his fiancée jilted him at the last minute.
In the wrong place at the wrong time when their hotel in Florence, Italy, is besieged by terrorists, the two strangers find themselves thrust together in Wade's honeymoon suite. Immediately attracted to each other, Wade conducts a siege of his own to win Theia's heart.
BUY THE SIEGE NOW
AMAZON     BARNES & NOBLE      THE WILD ROSE PRESS      KOBO     iBOOKS