STUMBLE STONES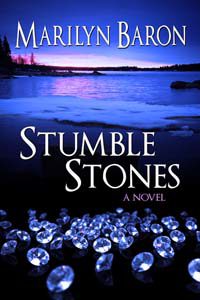 Hallelujah Weiss, writer for the steamy sudser As the Planet Spins, gets a second chance at love when she flees to Italy to get over her recent divorce, courtesy of her cheating ex-husband's credit card. A woman scorned, Hallelujah has sworn off men and is determined to reinvent herself. The new Hallelujah is eager to live life on the edge, more like Polly Winthrop, a character she writes and idolizes.
Lonely Berlin hedge fund manager Alexander Stone, a number cruncher who puts his faith in numerical data, still believes in destiny, despite the fact his fiancée just dumped him. Always a man with a plan, Alexander did not plan on Hallelujah.
After a chance encounter on a flight to Rome, the unlikely pair faces danger when they team up to return to their rightful owner a stash of WW II vintage jewels. The hidden diamonds hold the key to an unsolved mystery and a promise of love.
Marilyn's novel, Stumble Stones, was featured in Northside Woman magazine in the Good Books section.  Read about it HERE.
BUY STUMBLE STONES
AMAZON    BARNES & NOBLE      THE WILD ROSE PRESS E BOOK        THE WILD ROSE PRESS PAPERBACK      KOBO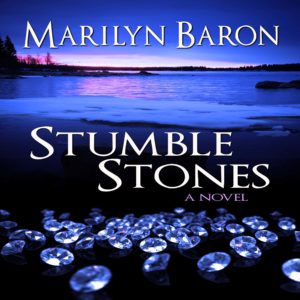 BUY STUMBLE STONES ON AUDIO HERE
UNDER THE MOON GATE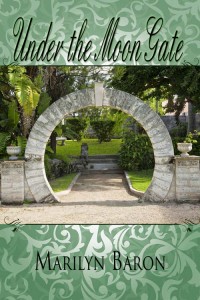 From The Wild Rose Press
Dashing sea captain Nathaniel Morgan sails into the life of prim and proper Bermuda heiress Patience Whitestone and threatens to expose her family secrets—ruinous secrets she wasn't aware of. The two are immediately at odds when Nathaniel moors his vessel in front of her estate and refuses to leave until he finds the cache of Swiss gold he's convinced was buried somewhere on the property during World War II. Can Patience save herself and her family's reputation when she finds herself reluctantly drawn to this determined "pirate"? Or will someone from the past make good on his threat to destroy them both? Their fate is inextricably linked to Nazi plots and to the beautiful moon gates of Bermuda in this compelling tale of love and intrigue.
BUY UNDER THE MOON GATE
DESTINY: A BERMUDA LOVE STORY
Prequel to UNDER THE MOON GATE
The relationship of star-crossed lovers Elizabeth Sutton and Edward Morgan founders off the coast of Bermuda with the shipwreck of the Sea Venture in the seventeenth century.  Edward is seduced by the captain's daughter and trapped into an unhappy marriage, but he and his new wife continue the voyage to Virginia to rescue the starving Jamestown Colony.
Elizabeth, still in England and pregnant with Edward's child, receives Edward's letters telling of the shipwreck but knows nothing of his marriage.  When her child is old enough, Elizabeth follows Edward as far as Bermuda.  Will he return and will the lovers be reunited, or will their eternally entwined souls search forever to fulfill their destiny?
BUY DESTINY: A BERMUDA LOVE STORY
AMAZON       BARNES & NOBLE       THE WILD ROSE PRESS       BOOKSTRAND        KOBO