THE ALIBI

Merritt Saxe, newly hired public relations specialist with the Florida prison system, answers an urgent plea from their division's director, Willard Ware Baintree. Following his orders, she finds him in the apartment of his mistress, his bloody T-shirt and the mistress's dead body convincing her the criminal justice superstar is himself a criminal. The director claims he didn't kill the woman and coerces Merritt into being his alibi.
Meanwhile, as the director pulls her farther into his web of lies, Merritt breaks with her longstanding boyfriend and begins a steamy relationship with hunky attorney Israel Goodspeed, whose brother works for the director. Yet how can she trust Israel with her secret or her heart when she suspects the director has been orchestrating their relationship to keep her in line? Speaking out about the cover-up could cost her more than time in jail…it could cost her life.
BUY THE ALIBI NOW
AMAZON     BARNES & NOBLE     THE WILD ROSE PRESS
LANDLOCKED
Marilyn's novel, Landlocked, her tenth with The Wild Rose Press, is now available.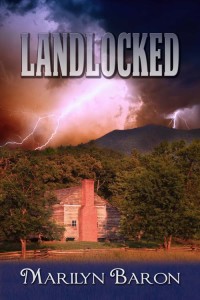 Romance, a decades-old mystery, and a serial killer on the loose…
Amelia Rushing is an inexperienced South Florida realtor with weather issues, and a loser at love. Her grandmother asks her to sell some property on an isolated North Carolina mountaintop. Upon investigation, Amelia finds the tract is landlocked. Determined to make her first sale and right the injustice to her grandmother, Amelia travels to the town of Confrontation and enlists the help of local real estate attorney, Alec Brady, who thwarts her at every turn.
Sparks fly when Amelia announces her plans to move into her grandmother's cabin until she can sell the property. It is Alec's current home, and he's not giving it up. When Amelia discovers that thirty years ago a prominent landscape artist disappeared in the town of Confrontation, she is anxious to solve the decades-old mystery, but there's a serial killer on the loose. A number of people are missing but no witnesses are coming forward. What is the community hiding, and does Alec know where the bodies are buried?
BUY LANDLOCKED
AMAZON        BARNES & NOBLE        THE WILD ROSE PRESS          KOBO          BOOKSTRAND
A Psychic Crystal Mystery Series
SIXTH SENSE (Book One)

 
On September 15, 2015, Marilyn's psychic suspense novel, Sixth Sense, Book 1 in her Psychic Crystal Mystery series, was re-released by AmazonEncore Imprint.
Reluctant psychic Katherine Crystal, dubbed "Crystal Ball Kate," is thrust into the national spotlight when she accurately predicts the death of a movie actor's young son in a private plane crash. Besieged by requests to use her powers to help others, she realizes why her parents had warned her never to let anyone know of her visions.
By-the-book Atlanta police detective Jack Hale harbors a deep-seated distrust of psychics and ignores Katherine's warnings when she calls to report her premonition. Jack is forced to partner with Kate, who uses her eerie sensitivity to evil to help him catch a serial killer in Sydney, Australia, but that's only the beginning of the story. Jack and Kate are drawn into the investigation of a mystery surrounding Kate's birth and find murder and romance among a secret society of psychics in the quaint seaside spiritualist community of Casa Spirito, Florida.
BUY SIXTH SENSE
AMAZONENCORE KINDLE EDITION           AMAZON PAPERBACK           THE WILD ROSE PRESS PAPERBACK
HOMECOMING HOMICIDES (Book Two)
From The Wild Rose Press
Professional crisis manager Philippa Tannenbaum is spokesperson for the law enforcement task force charged with solving a high-profile case. She never dreams her position as Homecoming Pageant Director and her second-place finish in the previous year's competition has placed her on a serial killer's hit list. Always a runner-up in life, she wants to finally come in first at finding the killer targeting the current crop of beauties.
Her friend Luke Slaughter, a Graysville city cop, shows up at Philippa's office, assigned to partner with her in solving the case and to protect her 24/7 for the duration. Unfortunately, he's also the man she hooked up with for a one-night stand when she broke up with her fiancé. Working with her is going to be less than easy, for a number of reasons…
BUY HOMECOMING HOMICIDES
AMAZON       BARNES & NOBLE         THE WILD ROSE PRESS  PAPERBACK         KOBO        BOOKSTRAND
KILLER CRUISE (Book Three)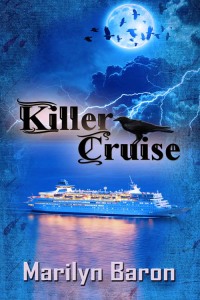 From The Wild Rose Press
The psychic detective team of Crystal & Hale, former Atlanta police detective Jack Hale and his bride "Crystal Ball Kate," is on a two-week transatlantic cruise. They are called in to investigate the threat to a high-profile European Union banking conference aboard ship and to calm the fears of the superstitious crew, who think the ship is cursed. Before long they realize they also need to catch an art thief and find a murderer.
Assisting them, posing as husband and wife at Kate and Jack's insistence, are Juliette Spencer, Kate's mother, and Graysville Police Chief Will Bradley, a debonair widower. Juliette just wants to enjoy the cruise and her daughter's company, but given Chief Bradley's unrelenting amorous advances in close quarters she may have to either jump ship or throw him overboard.
BUY KILLER CRUISE 
AMAZON        BARNES & NOBLE         THE WILD ROSE PRESS PAPERBACK          KOBO          BOOKSTRAND
THE VAMPIRE NEXT DOOR (Book Four)
Aurora Dawn Hale, the ravishing daughter and granddaughter of psychics, wants to take a bite out of the boy next door, reformed vampire Lancelot "Lance" Lakeland, who repents his past and desperately desires to be good. Lance has given up immortality to be with the woman he craves. He must convince Aurora Dawn he is worthy of her trust. Will she love him for who he is and leave her fiancé at the altar? Or wake up from her spell in time to recognize the evil presence of the fiend who has terrorized her family for centuries?
BUY THE VAMPIRE NEXT DOOR NOW
AMAZON        BARNES & NOBLE         THE WILD ROSE PRESS
MURDER AT THE OUTLET MALL
Things get deadly when three women come to blows over a single Coach bag at the St. Augustine Premium Outlets®. Murder at the Outlet Mall gives new meaning to the phrase,"Shop 'Till You Drop."
BUY MURDER AT THE OUTLET MALL
5-Star Amazon Review of Murder at the Outlet Mall
Shop 'Till You're Dropped
Once you've seen one shopping center you've seen a mall, as the famous pun goes. In Murder at the Outlet Mall by Marilyn Baron and Sharon Goldman, the puns are flying, but this shopping-related suspense tale is much more than that. It's a rollercoaster ride which will have the reader on the edge of their seat until checkout.It's a story of love, revenge, and big spenders and it is excellently written. For a co-authored story, you really can't see the joins.Murder at the Outlet Mall isn't the first Baron/ Goldman collaboration I've had the pleasure to read – I also read 2012's The Edger – and it displays a sharpening of their already razor-sharp wit.The location is perfect. The St. Augustine Premium Outlet in Florida is a fashion retail centre where the designer apparel is to die for (and also, there are some well-researched geographical and historical details about Florida which were excellent, especially for a Brit like me, who's never been: this tour-guiding episode in which (spoiler alert) the duo endeavour to dispose of the 'body parts,' reads like a comedy caper film script, and is wonderfully wrought). Overall, this is a fun story. It's soft-boiled crime for the discerning reader. It captures perfectly the 'feeding frenzy' of shoppers, and the 'Buyer Straits' of a shopping mall. Madame Wang and Madame Li are lovingly created and read brilliantly. And a last word to the authors, who never lose their customary humour but at the same time, prove themselves masters of suspense.The ending is straight out of left-field and is completely satisfying for the reader. There'll be no returns where this story is concerned!
A.J. Kirby, UK, Author of Sharkways